The Minstrel's Ghost: A Progressive Journey Down An Old Road
Date: Wednesday, December 26 @ 19:42:23 UTC
Topic: Album Release News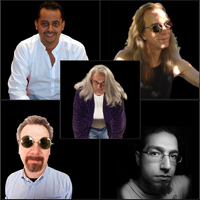 Following the release of Dream Things True, The Minstrel's Ghost is ready to put forth his biggest endeavor to date, The Road To Avalon. The re-telling of the classic Arthurian legends in an extravaganza of sounds and theatrical tid bits it is sure to stimulate your ears, mind and soul and perhaps tickle your fancy some too.
Written and produced by Blake Carpenter, with artwork by world renowned artist Ed Unitsky and featuring Zoltan Csörsz Jr. (The Flower Kings and Karmakanic) on drums, Troy James Martin (LeeAnne Savage) on bass, Colin Tench (Corvus Stone and Bunchakeze) on Guitar, Marco Chiappini (Gandalf's Project) on keyboards and Blake Carpenter (The Minstrel's Ghost) on lead vocals, guitar and keyboards The Road To Avalon is finally here! Drawing on influences ranging from Genesis to Iron Maiden The Road To Avalon is a neo-prog album full of enthusiastic keyboard leads, melodic guitar solos, smooth vocal lines and powerful rhythm sections.


There will be 2 versions of this epic work. The digital version will consist of 12 separate tracks specially edited for MP3 players and will be 57 minutes of music. The CD version will be: Part 1 - The Design, Part 2 - The Life and the bonus track which is Avalon parts 1, 2 and 3 compiled into one powerful track all totaling 1 hour and 16 minutes.
Let The Minstrel's Ghost and his knights take you on a journey back in time.
This musical retelling of the Arthurian tales begins with stroll down the road to Avalon where we meet Merlin the Magician who takes us to see the Lady of the Lake. There we receive Excalibur the greatest sword of them all to be given to Arthur the new King of Britain. With Excalibur Arthur and his knights bring peace to all the land and at Camelot Arthur weds Guinevere. Guinevere however is in love with Lancelot and betrays her King with this knight. Arthur, being shown this betrayal by his sister Morgana has Guinevere and Lancelot banished breaking the ties that keep the kingdom together. This brings on the blackest of days. Merlin has been tricked by Morgana and cannot escape his prison. Mordred, the son of Arthur and Morgana through magic many years ago, has his sights on Camelot and with his army defeats Arthur at the battle of Camelon thus ending the glorious reign of the one true King.
The Road To Avalon Track Listing:
Part I - The Design
    I. The Journey Begins (The Avalon Overture)
    II. Avalon Part I
    III. Merlin
    IV. The Lady Of The Lake
    V. Excalibur
    VI. Avalon Part II
Part II - The Life
    I. Camelot
    II. A Love Betrayed
    III. The Son
    IV. Avalon Part III
    V. Le Mort d'Arthur
    VI. The End
(Bonus - CD Version Only)
The Road To Avalon
To order the CD, which was released December 7, go to The Road To Avalon or Melodic Revolution Records
[Source: Prog Sphere Promotions]