Legrand Is The New Vocalist For Cirrha Niva
Date: Wednesday, June 27 @ 04:27:27 UTC
Topic: Band News (tours, comings/goings, etc)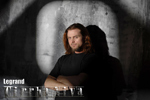 After 2 months of searching, Dutch progressive metalband Cirrha Niva has found a new vocalist to replace the recently departed Arnold Kloek. The new singer's name is Legrand and he did an amazing 5-song audition. He learned the songs in only a few weeks and was very convincing while performing for and with the band. The minute they started playing the first song, it felt so good that the band offered Legrand the job right after the audition.
It has been a long journey since Cirrha Niva began writing songs for a new album. Since their last album Liaison De La Morte (a rock opera, released in 2001) the band had their share of problems. When the Liaison De La Morte Tour ended in 2002, they immediately started working on new ideas. Halfway [through] 2003 band members Liselotte Hegt (bass & vocals) and Rommert van der Meer (guitar) left the band. It wasn't until 2004 that the band found new musicians to replace them. With Carlo Heefer on guitar and Dani?l Huijben on bass guitar, the band kicked off 2004. They continued writing songs, but faced difficulties with the vocal melodies. In 2006 it became clear that singer Arnold and the band were having musical differences. Although they tried to resolve whatever the problem was, it was inevitable that Arnold was leaving the band. Arnold has been Cirrha Niva's vocalist since 1998.
His own statement:
"Yes, almost 10 years I have been the singer of Cirrha Niva. Years I will never forget. But times change and so do I. In the last year of being busy with writing songs it slowly became clear to me that I was not really happy with the way and the direction the other guys wanted to go with the melody lines and style of singing. In other words, we have grown apart in musical ways. Therefore I have decided to leave Cirrha Niva. It was not an easy decision but I need to be honest to everyone and myself. Not being happy affected my creativity more and more. It started to leave a mark on the band and that is not a good thing. I would like to thank Carlo, Daniel, Rob and Tommy for all the good times we had and wish them good luck in the future. And I would like to thank everyone who supported us all those years. I also thank the crewmembers for all their effort, time and energy. You guys and girls rule!!! So I close this door behind me to open other doors with new roads to follow. You will soon hear from me again.
"All the best,
Arnold Kloek"
Luckily Cirrha Niva has found a great new singer in Legrand and with him they hope to start recording a new album by the end of this year. Besides learning all songs already written by the band, Legrand can immediatly prove himself also in the writing process. The band has recently written some more new songs which still needs to have vocal melodies and lyrics. Legrand's personal bio will be added to the band's website in a few days.
Meanwhile we can also mention that drummer Tommy White has been featured on a live DVD by Dutch rockband Alter Ego X.
During the first three months of 2007, Chris, Ramon and William Lee of the band Alter Ego X, have been working on their next release a DVD titled Not For Intellectuals, with producer Tony DeBlock mixing the DVD soundtrack. Filmed on November 5th 2006, the DVD shows the band in top-form, with their ex-drummer Tommy White as guest musician on drums for the first time since November 1995. White's presence was felt as the band played 4 tracks of the No Holding Back album, which the band recorded back in 1995, when he was in the band. Apart from this roaring live-registration, the DVD will contain a few extras as a sincere thank you to the loyal fans of Alter Ego X. The DVD will be independently released in the summer of 2007.