In the wake of the devestating earthquake and tsunami, Australian disc jockey Andrew Holborn, of the program "3rd Ear," embarked on a project to bring together progressive world music artists from around the globe to participate in a benefit CD, the proceeds of which would go directly to The International Red Cross and their tsunami relief efforts.
While our initial wish was to aid tsunami victims, the passage of time has meant that many organizations have met their goals in terms of fund raising to help these victims, including the International Red Cross. However, in conjunction with the International Red Cross we have decided to release this CD in hopes of raising money for the International Red Cross ~ Sudanese Refugees Appeal. You can learn more about this appeal at www.ifrc.org/news/chad/index.asp.
The CD is being produced and manufactured by Musea Records in France, with distribution planned for the UK, Europe, USA, Brazil, Mexico and Australia.
The artists recruited include Colin Bass of Camel (UK) (as Sabah Habas Mustapha & Jugala All Stars), Peter Lindahl of In The Labyrinth (Sweden), Attila Kollar and Robert Erdesz of Solaris (Hungary), Vital Duo (France), Håkan Almkvist (Orient Squeezers and Ensemble Nimbus), Poços Y Nuvens (Brazil), Steve Warner (Australia), Steve Unruh (US), Waak Waak Jungi (Australia) and Topeka (US) and others. See The Artists for brief bios of each artist.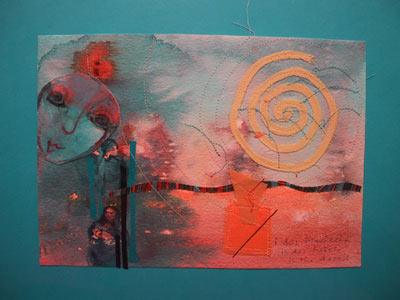 This is the artwork that will be used on the cover;
album artwork designed by Gaylene Richardson, Rosa Stevenson,
Ceri McKervill, Jane Lloyd, and Margaret Dunlop
Tracklisting:
"All Gone" - Waak Waak Jungi (from Crow Fire Music (Skinny Fish)) (4:20)
"Karakoram Waltz" - In The Labyrinth (from Garden Of Mysteries (self-released)) (5:28)
"Ave Luz" - Jose Luis Fernandez Ledesma (from Designios (Luna Negra/Musea)) (7:58)
"Hawa El Sahra" - Steve Warner (from Sketches Of Paradise (self-released)) (4:14)
"InstruMental Breakdown" - Steve Unruh (from Invisible Symphony (self-released)) (5:46)
"Like The Road That Rolls On By" - Topeka (from Land Rush (Lopie Records)) (6:22)
"Madrugada" (excerpt) - Wiermann & Vogel (Quaterna Requiem) (from A Mão Livre
"Epigram" - Ensemble Nimbus (from Scapegoat (self-released)) (3:26)
"Tolv Man" - Styrbjorn Bergelt & Roland Hakansson (from Randalin (self-released)) (5:20)
"La Tour Haute" - Vital Duo (from Ex Tempore (Musea)) (7:00)
"Alchemy" - Attila Kollar (from Musical Witchcraft (Periferic Records)) (4:32)
"Gregorian" - Robert Erdesz (from Meeting Point (Periferic Records) (3:58)
"Paradise Lost" - Brainstorm (from Paradise Lost (self-released)) (6:05)
"Geracao Perdida" - Pocos & Nuvens (from Ano Veloz Outouno Adentro (Progressive Dreamland)) (5:24)
"Seuri" - Sabah Habas Mustapha & Jugala All Stars (from So La Li (Kartini)) (4:43)


Use this banner to link to us at http://www.progressiveworld.net/oneworldtapestry.
[Home] [News] [About] [The Artists] [Where To Buy] [Links] [Contacts] [MySpace]
© 2005 - 2008 Musea/One World Tapestry. Use of any text or images without permission is prohibited; if you need something, just ask.